Geometric and Nonlinear Analysis (06w5090)
Arriving Saturday, August 12 and departing Thursday August 17, 2006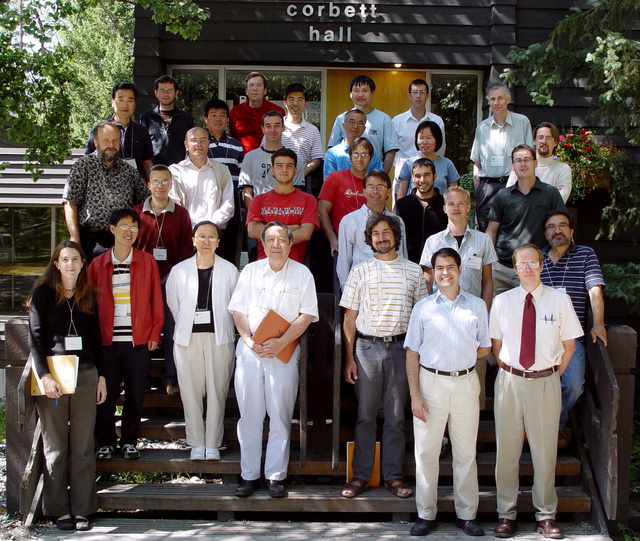 Organizers
Matthew Gursky (University of Notre-Dame)
Emmanuel Hebey (Universite Cergy Pontoise)
Frédéric Robert (Universite Henri Poincare Nancy 1)
Objectives
We intend to cover a wide range of topics in nonlinear partial differential equations, both on the theoretical and on the applied point of view. In particular, we will insist on pde's arising from geometric analysis. The idea is to make meet together people working in various topics of this very wide subject. We plan to insist mainly on conformal geometry and fully nonlinear equations, without neglicting other topics. As a matter of fact, the main objective of this workshop is to discuss recent developments in many branches of geometric analysis and to stress on possible new applications.

However, some new techniques, geometric or not, developed by teams concerned with these applications, do not make their way to others who may be using similar techniques but on different types of problems. One particularity, which is common to these very active areas, is the appearance of singularities. These singularities are of various type, often specific to each domain, and always need to be understood. Therefore, the other objective of this workshop is to mix senior experts and young researchers from either a more geometric flavour or a more "pure" pde flavour. We are very confident that such an interaction will provide an opportunity to exchange ideas from various sensibilities so that new applications can be developed. On a practical point of view, this workshop will be made of forty-five minutes talks.

More precisely, here is what will be treated:
1. Conformal geometry. We will focus on various conformal invariants. The most natural invariant is the scalar curvature, which is deeply related to the topology of two-dimensional surfaces. There has been some recent progresses towards the understanding of the structure of the Yamabe equation, that is the scalar curvature equation. This type of question can be generalized in two directions. If one considers the scalar curvature as attached to a second order problem, one will find interest in higher order conformal invariants, like the Q-curvature for fourth-order operators. By the way, it is possible to construct conformal invariants attached to arbitrary high order operators related to conformal infinity of noncompact manifolds. If one consider consider the scalar curvature as the sum of the eigenvalues of the Schouten tensor, one can consider various functions of the eigenvalues, which leads to fully nonlinear equations. These questions are closely related to various critical pde's of elliptic type and will be treated during the workshop.

2. Fully nonlinear equations. The two "model" problems would be the fully-nonlinear version of the Yamabe problem (the sigma-k problem which connects this theme with the preceding conformal geometry theme) and the transportation theory. Of course, this would lead naturally to the regularity issues intrinsic to fully nonlinear equations. The recent developments in transport, and especially its new applications, like in functional inequalities or evolutions pde's, are naturally of perticular interest. This very active area has a natural place in this conference.

3. Despite this is a heavy programm, we do not forget other branches: symplectic, spin and K"ahler geometry will also be treated. As already mentioned, the aim of this workshop is to provide a (modest!!!) panorama of some topics in geometric analysis, and not focusing on only one of them.

We naturally expect the researchers in all these fields to interact together and spread their techniques one to each other. In particular, we insist on the presence of young researchers, including PhD students, who would of course benefit of such an event.