Recent Developments in String Theory
March 15 - 20, 2003
Organizers: Jim Bryan (UBC), Steve Giddings (UC Santa Barbara), Mikhail Kapranov (Univ. Toronto), Andreas Karch (Univ. Washington), Amanda Peet (Univ. Toronto), Moshe Rozali (UBC), Gordon Semenoff (UBC), Mark Van Raamsdonk (UBC), K. Viswanathan (SFU)
Objectives
This Workshop will be a forum for dissemination of new results and discussion and development of new ideas in the interface between superstring theory, mathematics and modern theoretical physics. Our aim is to promote inter-disciplinary work, by bringing together active researchers working at research frontiers from both the mathematics and physics communities.
The prime goal of the Workshop is the incubation of new ideas in this very promising frontier of science. In view of developments in duality on the physics side and related developments in algebraic geometry on the mathematics side, this interface between mathematicians and physicists will be particularly timely.
The format of the Workshop will be informal, with a small number of talks per day and ample time set aside for spontaneous discussion. The Workshop will also play an educational role by making available a web archive of talks presented. The aim is to do so in order to provide a maximally useful resource for researchers world-wide.
Final Report (in PDF format)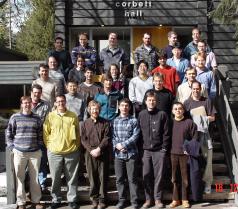 click image for larger photo