BIRS Gather Town
BIRS Gather FAQ
[This FAQ will be updated as more common questions arise.]
General:
What is Gather?
Gather is a virtual meeting space where the research community can develop new research connections, work in groups and organize social events like we would in real life. This is an addition to the Zoom online platform.
What is the difference between using Gather and Zoom during a BIRS workshop?
Gather can be used outside of talks to connect with other participants. Zoom remains the platform through which talks are held.
What are the benefits of using it during a BIRS online workshop?
As we have adapted our operations due to COVID-19, we acknowledge the challenges that come with not being able to meet in-person during workshops. The goal of incorporating Gather into online workshops is to enhance the online experience by providing a virtual space to connect with other participants during the week – whether that be through a quick chat between talks, virtual happy hour over a round of Codenames, or a brainstorming session in front of a shared online whiteboard in a private breakout room.
Can I try Gather out prior to a BIRS online workshop?
Yes – Gather has created several demo spaces you can explore at your leisure, which can be found on its homepage. Here is a demo conference space with helpful instructions on how to move around and interact with objects and other users. Please note that the BIRS Gather spaces will have a different layout.
Gather has put together a guide in this space with useful information on getting started that can be found in the spawn room seen below (glowing in yellow) or here.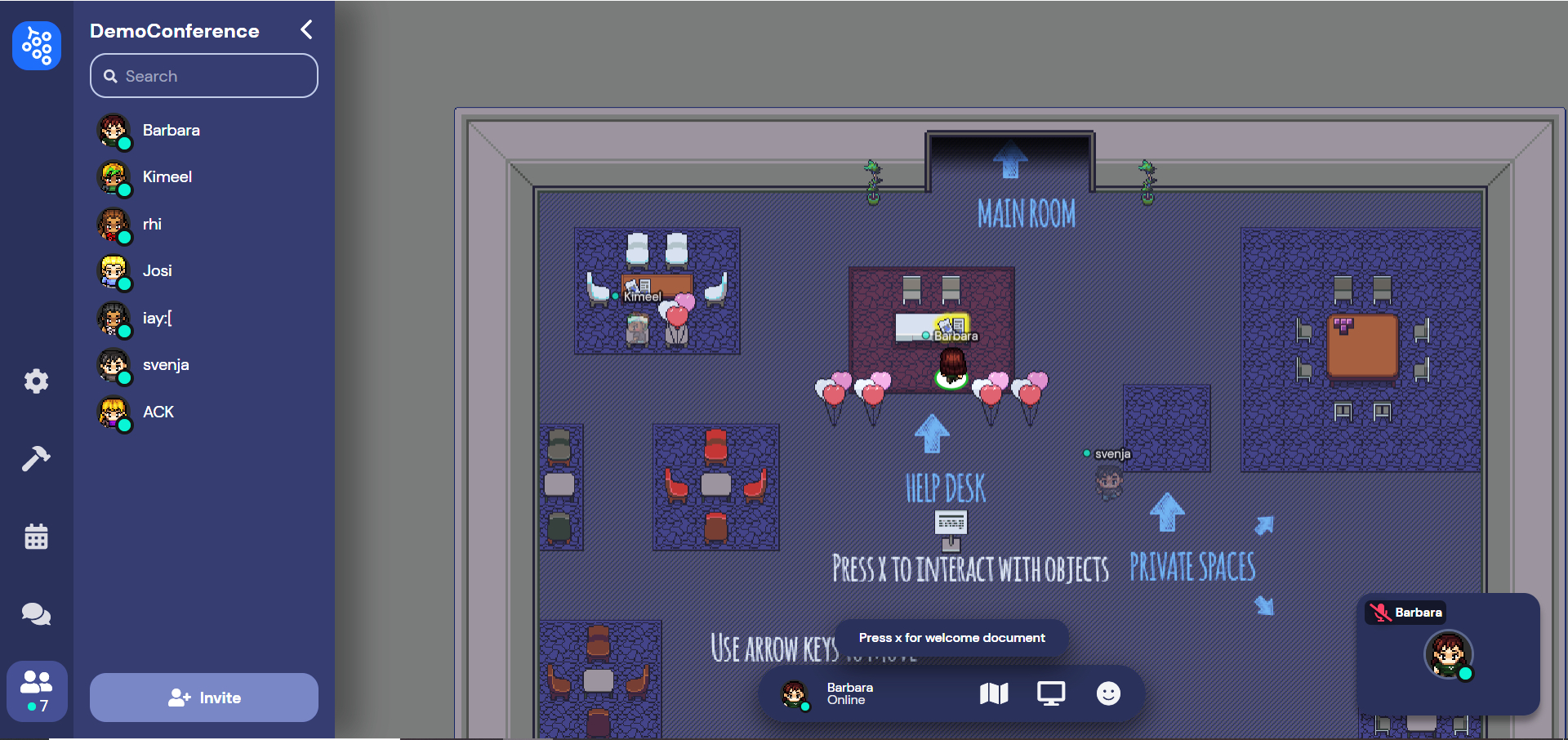 What do the BIRS Gather spaces look like?
BIRS' Gather spaces have the following layout – these maps can be found throughout the space for reference and each room is clearly labelled for your convenience.

Where can I use Gather?
Gather is currently supported on Google Chrome, Mozilla Firefox, and Desktop Safari (in Beta). To ensure a smooth experience, we would recommend using either Chrome or Firefox. As per Gather's support page, there are known issues with its mobile/tablet experience – it is recommended that you access Gather from a computer.
There is also a Gather desktop app (also in Beta), which is available on Windows and MacOS.
Can I keep Gather and Zoom on at the same time?
It is recommended that participants use headphones while using either Gather or Zoom to minimize audio feedback. If you would like to continue exploring the Gather space or go into a breakout room during a workshop, it is recommended that you mute your microphone and turn off your camera on Zoom to avoid interference. Your browser may not register your camera if another application is using it.
If you run into any audio or video issues, here is a A/V troubleshooting guide from Gather support.
How do private spaces work?
There are five breakout rooms, one staff office, and many smaller private areas throughout the BIRS Gather space in which participants can have private conversations. The interaction distance between participants is overridden and you will be able to see/hear anyone in the same private area. Click here for more information from Gather on private spaces.
The breakout rooms each have a shared Cocreate board, on which participants can brainstorm together as if it were a physical whiteboard.
How is my privacy protected while using Gather?
As per Gather's privacy policy:
Your audio/video will not be stored by Gather. WebRTC is used to encrypt this data sent peer-to-peer, which is the same encryption policy taken by services like Google Meet.
Chat messages are stored by default on Gather servers, which allows them to persist between sessions. These are associated by individual accounts and Gather can delete such information by email request if needed.
Click here for Gather's FAQ on data protection and encryption.
I have more questions about how Gather works.
Gather has created a repository full of support articles that can be found here.
For any other Gather FAQ or troubleshooting, please click here.
What is Cocreate?
Cocreate is an online collaborative whiteboard tool that supports LaTeX and allows participants to brainstorm together during a workshop. No accounts or software downloads are required and it is licensed under the MIT License. For more information, please click here.
How do I use Cocreate in Gather?
The Cocreate whiteboards can be used for collaboration among participants within the same private space. The type text feature can be used to write mathematical expressions with LaTeX syntax ($math$).
My audio/video doesn't work while using Cocreate in Gather!
Although Cocreate has been incorporated as an interactive object on Gather, some browsers may treat it as if you have clicked onto a separate browser tab and turn off your audio/video on Gather. To temporarily disable this during your whiteboarding session, you can turn off the Auto Idle Muting feature in your user settings.
For Participants:
Am I required to use Gather as a workshop participant?
No – it is not mandatory to use Gather during an online workshop, but recommended so as to be able to connect with other participants outside of scheduled talks.
Should you find you need a breather while in the space, there is an option to turn your camera and microphone on/off at the bottom right of your screen and a Quiet Mode to reduce the number of video call connections you make while moving around. Clicking away from the active Gather window in your browser will also turn your camera and microphone off.
How will I get access to the BIRS Gather space?
You will receive an invite link and Gather space password prior to the start of the workshop. Access to the Gather space will be open for the week of the workshop, including outside of scheduled talks so that participants can socialize and collaborate.
How do I attend a scheduled talk?
Workshop talks will continue to be hosted on Zoom and the link can be accessed through Gather. Upon entering the main meeting room, find a seat or space where you will see the prompt "Press x to join Zoom meeting". Clicking the link will disable your audio/video on Gather, so it won't interfere. To return to the Gather space after the talk, go back to the window with Gather open and click re-enter.
Who can I go to in the Gather space if I have questions during a workshop?
There will be at least one staff member "on-site" in the Gather space during scheduled workshop hours to support participants as needed, who can be identified as "BIRS Staff – [Name]". You can click on their or any other user's name in the participants list (see below) to either message them privately or "locate on map" to find their avatar.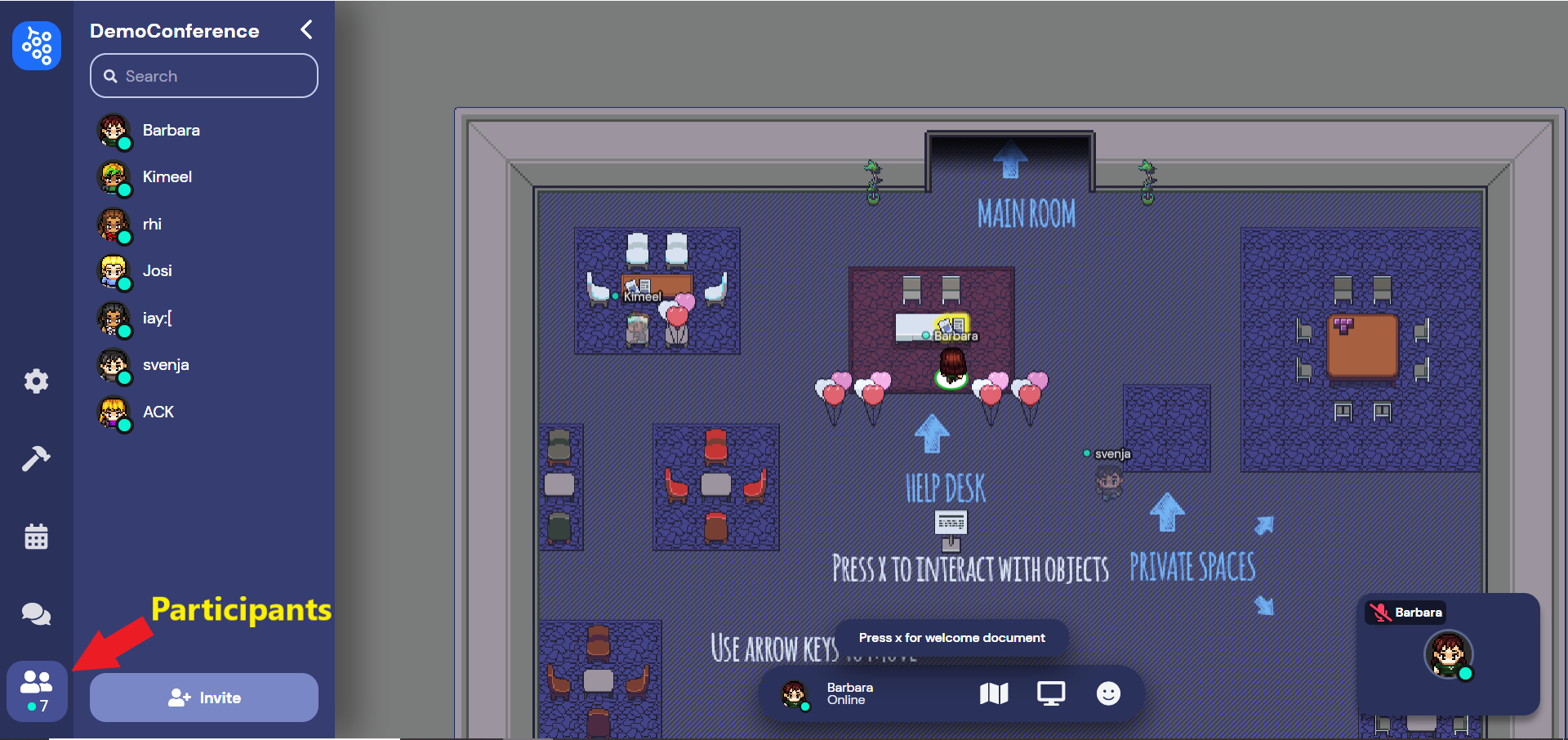 For Organizers:
Can I see a demo of Gather before deciding whether to use it for my workshop?
Organizers can request a live walkthrough of the BIRS Gather space and its features by emailing [email protected]. Access to the space can be arranged for organizers starting the weekend prior to their workshop in order to get used to using the platform.
What type of user access will I have in the BIRS Gather space?
Organizers with a Gather account can be granted moderator access in the BIRS Gather space for the week of your workshop, which allows you to manage the following space preferences:
Calendar – via public iCal link, if available
Pinned Moderator Message – to be pinned to the top of the chat for everyone in the space to see
Preserve Chat History – space-wide on/off option to keep conversation history between reloads
Disable Chat – space-wide on/off option
Disable Screenshare – space-wide on/off option
We kindly ask that you leave the space access features to BIRS staff, who will manage these features prior to and during the workshop.