Description of Facilities
The Banff International Research Station is physically located on the campus of Banff Centre. BIRS occupies 2 buildings - Corbett Hall and the TransCanada Pipelines Pavilion. TransCanada Pipelines Pavilion is wheelchair accessible, and Corbett Hall is wheelchair accessible through Max Bell.
Corbett Hall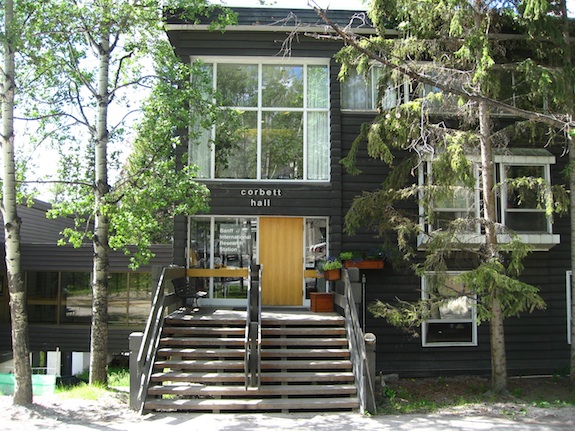 Accommodation
Participants of BIRS programs are housed in Corbett Hall, which has 50 rooms. Each room has a queen or a king sized bed (signed at random) an ethernet port for laptops, and a desk. The rooms are each equipped with a clock-radio, a coffee-maker, and an iron and ironing board. The majority of rooms share a bathroom with one other room. We make every effort to keep each pairing all male/all female. Bathrooms are equipped with hair-dryers and supplied with towels, soap, shampoo and lotion.
Corbett Hall 5210 - BIRS Lounge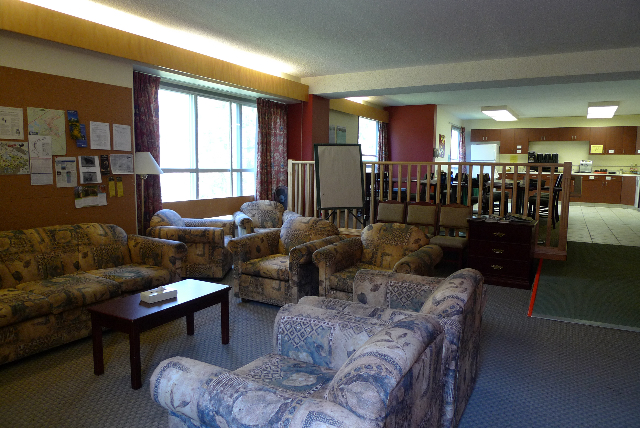 A place to gather and relax at any time, accessible 24 hours/day. Snacks and beverages are available on a cash honor basis. It is equipped with dining tables and chairs, microwave and communal fridge. We also provide cutlery, plates and glassware for your convenience. In the seating area of the lounge, there is a sofa with armchairs, coffee tables, fireplace, some board games and a flat screen TV with cable connection.
Corbett Hall 5310 - Reading Room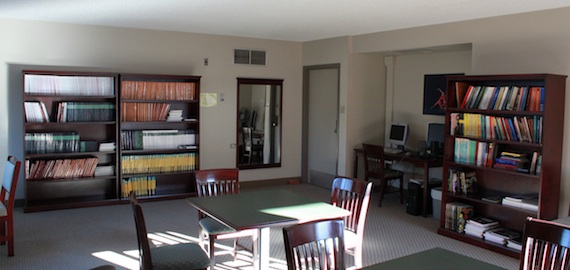 A good place for quiet and study. Library/reading room is equipped with 4 tables and abut 20 chairs. We provide white board for you to use as well. Mac computer and a network printer, several ethernet ports, wireless networking are also available for your convenience. For scanning, please use the Xerox multifunction machine in TCPL 105. Recent publications of the American Mathematical Society, the CRM, and the Fields Institute, along with donated books, fill the shelves of the Reading Room for your use.
Laundry Facilities
There is a coin-operated washer and dryer located on the first floor of Corbett Hall. Should you require laundry detergent, it is available for purchase in Corbet Hall Lounge
The TransCanada Pipelines Pavilion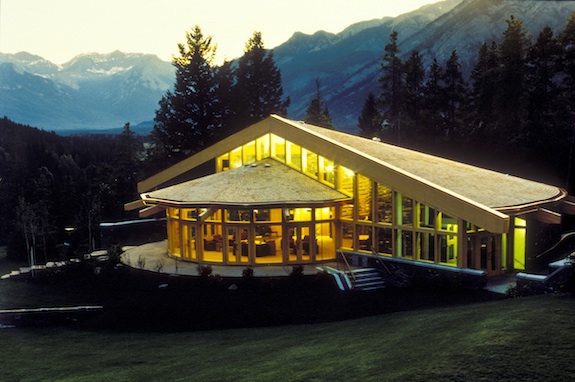 The TransCanada Pipelines Pavilion (TCPL) is reserved exclusively for the use of BIRS programs.
TCPL Room 201 - Main Lecture Room: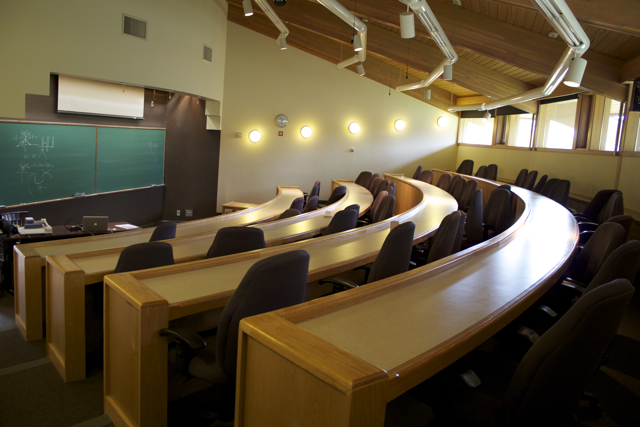 Most workshop lectures are held in this auditorium. The room has:
an LCD projector (turn on/off via touch panel)
a motorized projection screen
a Macbook Pro laptop computer
laser pointer with slide remote control
battery charger with extra batteries for the remote control
USB stick for transferring files between computers
a digital document camera
15' of chalkboard space
wireless Internet access
Capacity: 50
TCPL Room 202 - Small Lecture Room: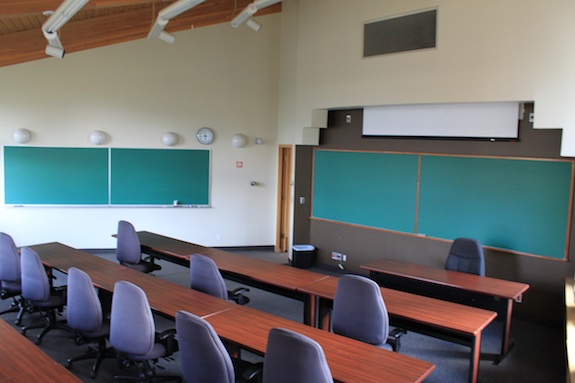 This room can be used for break-out sessions during full-sized BIRS workshops, or to host half-workshops or other smaller meetings. The room has:
an LCD projector with remote control
late model Macbook laptop computer
a motorized projection screen
28' of chalkboard space (front and side walls)
wireless Internet access
Capacity: 12 - 40, depending on furniture arrangement
TCPL Room 101 - Small meeting room:
Two 6' whiteboards
1 combination cork/chalk/whiteboard
wireless Internet access
piano
Capacity: 8
TCPL Room 102 - Small meeting room:
8' chalkboard
One 6' whiteboard
wireless Internet access
Capacity: 4
TCPL Room 105 - Work room:
One 6' whiteboard
Xerox AltaLink B8045 multifunction photocopier: provides scanning (with e-mail), printing, and photocopying services.
6' table with late model iMac configured to print to the Xerox
6' table with stapler, staple remover, and paper cutter
wireless Internet access
Capacity: 4
TCPL Room 106 - Small meeting room:
Two 6' whiteboards
1 combination cork/chalk/whiteboard
wireless Internet access
Capacity: 6
TCPL Room 107 - Small Research Teams room: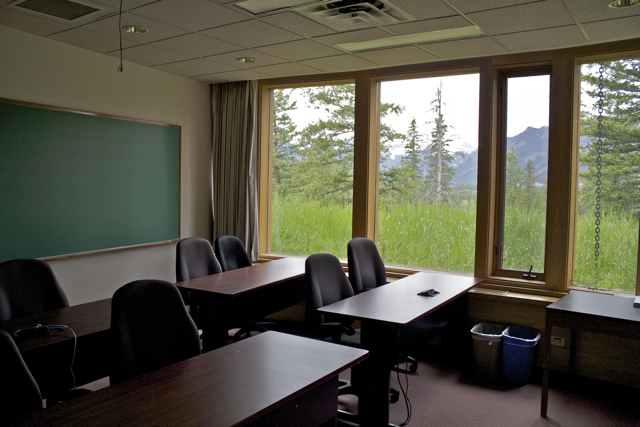 14' chalkboard
10' chalkboard
projection screen
portable LCD projector (upon request)
wired Internet access
wireless Internet access
Capacity: 8
General Facilities
Computer Networks:
There is open (no password) wireless access available in all areas of BIRS.
Each bedroom in Corbett Hall has an ethernet network port for fast connectivity to the Internet.
The guest network for laptops is a fast ethernet network (100mbit) with ports available in all bedrooms. BIRS shares a 5mbit connection to the public Internet, and has full access to the 1Gbit research network for connectivity to academic institutions. Configuration for network access is done automatically via DHCP. The guest network is also accessible via wireless networking (802.11b/g) in all areas of BIRS.
Library:
BIRS has a very small, but growing, library. There are two open computers (iMacs) available in the Reading Room. Participants who have online services at their home institutions are encouraged to establish proxy accounts which will allow them journal access from BIRS.
The Banff Centre has a very nice arts/music library which has a good collection of sheet music as well as recorded music and video material. BIRS participants are welcome to use this library, which is located in the Kinnear Centre for Creativity & Innovation.
Banff Centre:
Banff Centre is a centre for fine arts programs, leadership development, mountain culture, and, since 2003, BIRS. It is situated in the Town of Banff part way up Tunnel Mountain on a peaceful and secluded site.
It has an athletic complex with swimming pool, running track, workout room, climbing wall etc., all of which are available complementarily to BIRS participants. For more on the Banff Centre and its current artistic program, please refer to the Banff Centre webpage http://www.banffcentre.ca.
During your stay at BIRS, you can be contacted by telephone through The Banff Centre switchboard, which is open 24 hours, at +1-403-762-6100.