Integrated Hydrogeophysical Inversion (08w5051)
Arriving Sunday, July 13 and departing Friday July 18, 2008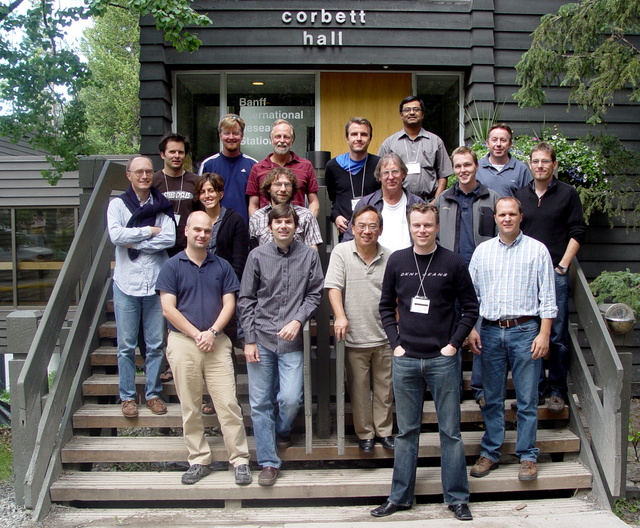 Objectives
The purpose of the proposed meeting is to bring together hydrologists, geophysicists, and mathematicians to form common concepts and platforms to advance the field of hydrogeophysical inverse analyses.
Water resources have been identified as the major limiting factor to growth and sustainability in both developed countries such as Canada and underdeveloped countries around the world (Alberta Environment, 2003; Gleick et al. 2001; United Nations, 2006). While great advances have been made in the use of remote, satellite-based measurement methods to quantify water storage and movement at the Earth's surface, relatively few improvements have been made to our ability to characterize subsurface hydrologic processes. This has led to intense interest in the development of integrated surface and subsurface hydrologic observation networks through efforts such as the Hydrologic Measurement Facility of the Consortium of Universities for the Advancement of Hydrologic Sciences, Inc., (CUAHSI). This NSF-funded center is charged with bringing together hydrologists and geophysicists to improve the use of geophysical tools for hydrologic applications, particularly at larger scales. To succeed, this ambitious effort must bring together instrument users and developers with hydrologists to define relevant targets, make measurements, and interpret the results. We believe that the critical component of this cooperative effort is an improvement in the integration of hydrologic and geophysical inverse methods. We view the generalized hydrogeophysical inverse problem as a simultaneous, joint inversion problem in which geophysical and hydrogeological parameters (e.g. electrical conductivity and hydraulic conductivity) are decision variables and data are derived from hydrogeological and geophysical observations and experiments.
Both geophysicists and hydrologists have made broad use of inverse methods. Generally, geophysicists have focused their inverse analyses on target detection; success of a survey is often based on the identifying the presence and location of a body (e.g. a structural oil and gas trap) to be investigated more directly for determination of specific physical properties (e.g. oil content and grade). Hydrologists typically conduct inverse analyses to determine effective or distributed properties; the geometry of the physical system (e.g. aquifer extents) is often assumed and the analysis is aimed at defining physical properties (e.g. transmissivity) with little or no prospect of more direct analysis to follow. Because of their differing primary survey objectives, hydrologists and geophysicists have followed different paths in developing inverse analyses. We believe that the proposed meeting offers a unique ability for those involved with hydrologic inverse analysis and those involved with geophysical inverse analysis to come together with mathematicians involved with generic inverse analysis to form an integrated analysis framework that will improve the use of geophysics for hydrologic analysis.
We believe that the field of hydrogeophysical inverse analysis is at a unique juncture in its history. As discussed above, hydrogeological and geophysical inversion are moving towards convergence and the field is poised for a major advancement. The proposed workshop will have direct and immediate impacts on our ability to quantify the rates and pathways of water movement, chemical transport and changes in water storage in the subsurface. These benefits will include: more certain estimates of water availability for agricultural, domestic, and industrial use; better linkage of surface and subsurface processes in global climate modeling; and more efficient and effective monitoring and remediation of subsurface contamination. In addition, we believe that the methods developed, which will merge the object-based inversion and parameter-based inversion, will have impacts beyond hydrology in the fields of medical imaging, process and manufacturing control, and terrestrial exploration.
The goal of integrated hydrogeological and near surface geophysical studies is to produce an integrated earth model with a minimal amount of non-uniqueness and an estimate of the uncertainty in the model. Groundwater modelers commonly use hydraulic head and flow estimates to invert for hydrogeological parameters such as permeability or recharge rates. Geophysicists use the measurement of a variety of geophysical data types to invert for physical attributes such as electrical conductivity or dielectric constants. Then, hydrogeologic variables such as groundwater electrical conductivity or moisture content are estimated using petrophysical relationships such as Archie's Law or the Topp equation. The earth model construction problem is inherently a mathematical problem involving partial differential equations that describe physical processes, statistics including geostatistics, inversion, numerical modeling and computational methods. Many tools such as smoothness constrained nonlinear least squares estimation, cokriging, maximum likelihood estimation, finite element and difference modeling and empirical methods are employed. Current methodologies face a multitude of challenges including, but not limited to: rationalizing different scales of measurement volumes, different error characteristics of different measurements, characterizing uncertainty propagation, variations in time and space of imaging resolution, computational tractability, non-Gaussian of statistical distributions, identifying the most valuable data for acquisition and uncertainty in petrophysical relationships.
The workshop will bring together top researchers in hydrogeologic parameter estimation, near surface geophysics and inversion, mathematics and other related fields with analogous imaging problems such as reservoir modeling and medical imaging. The goals of the workshop are to outline the state of art of integrated mathematical estimation of hydrogeophysical parameters and processes, to identify the most exciting current approaches and to formulate new and innovative approaches to the generalized hydrogeophysical inverse problem. We expect the workshop to lead to novel and new approaches to the integrated estimation problem and to new research collaborations.
The first day of the workshop will be dedicated to summarizing the current state of hydrogeologic parameter estimation, multi-method geophysical inversion and relevant inversion and imaging of similar problems in other fields. The following days will be devoted to workshop sessions in which smaller groups of researchers with diverse composition of backgrounds discuss major issues associated with the integrated hydrogeophysical inverse problem and new approaches. The groups will be reformed from time to time in order to maximize the interactions and keep the approaches to the problems fresh.

Alberta Environment (2003) Water For Life.
Gleick, R.C., G. Carabin, V. Hallet, V. Peters and A. Dessargues (2001) "Make every drop count," Scientific American, 284: 40-45.
United Nations (2006) Water, a shared responsibility, 2nd UN World Water Development Report.