Analysis of nonlinear wave equations and applications in engineering (09w5121)
Arriving Sunday, August 9 and departing Friday August 14, 2009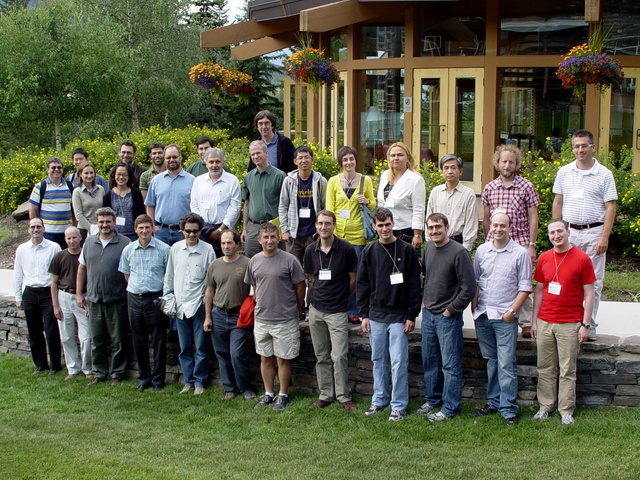 Objectives
The proposed workshop will bring together on the one hand researchers working on harmonic analysis and PDEs with interest in engineering applications and on the other hand researchers actively working on applications of coherent structures such as solitary waves and their stability and interaction who are likely to benefit from modern PDE and harmonic analysis tools. It is anticipated that the problems in the physics of nonlinear waves may stimulate new useful directions in the rigorous study of PDEs.
It appears that there is an emerging area at the interface of PDE analysis and applied nonlinear wave stability. The workshop will stimulate growth in this area. Also, junior researchers participating in the workshop, will be exposed to this emerging area of PDE analysis of coherent structures in applications.
The final reason for importance of this workshop is that people from these two communities rarely overlap and BIRS is right place to have an effective interaction of these two groups. We feel that it is important to have a full size workshop (of 40 participants or so) to have a broad cross section of both communities (e.g. 15 each) as well as about 10 junior researchers.
SCHEDULE OF THE PROPOSED WORKSHOP
We plan a number of tutorials for the first two days in the morning: (Monday and Tuesday). One or two tutorials on the methods of PDE analysis, such as Strichartz estimates, normal forms and basic results on local and global well-posedness, scattering, blow-up. Two or more tutorials on engineering applications: optical communication systems, photonic structures, Bose-Einstein condensate. These tutorials will explain the background and emphasize the basic issues facing engineers and applied mathematicians. For example, optical communication tutorial could contain the derivation of dispersion managed NLS, explanation of existence of dispersion managed solitons with finally describing the important problems: soliton's tail decay (exponential or Gaussian), existence in the negative residual dispersion limit, etc..
In the remaining time we plan presentations on the current research in both areas with a "round table" discussions on Wednesday and Thursday evenings.