Coupled Mathematical Models for Physical and Biological Nanoscale Systems and Their Applications

(16w5069)

Arriving in

Banff, Alberta

Sunday, August 28 and departing Friday September 2, 2016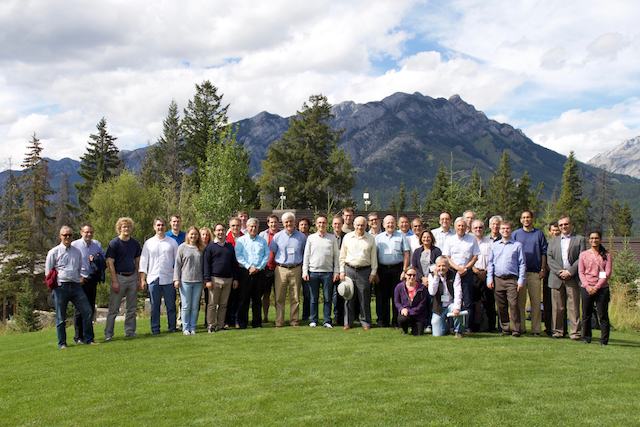 Organizers
Luis Bonilla (Universidad Carlos III de Madrid)
Efthimios Kaxiras (Harvard University)
Roderick Melnik (Wilfrid Laurier University)
Objectives
Due to the vastness, novelty and complexity of the interface between mathematical modelling and nanoscience and nanotechnology, many important areas in these disciplines remain barely explored. In progressing further, multidisciplinary research communities have come to a clear understanding that, along with experimental techniques, mathematical modelling and analysis have become crucial in the study, development, and applications of systems at the nanoscale. This workshop is aimed at bringing together researchers from these communities, experts who are working on different aspects of the analysis, modeling, and applications of nanoscale systems, with particular focus on low dimensional nanostructures and coupled mathematical models for their description. The development of such models requires concerted efforts from mathematicians, physicists (both theoreticians and experimentalists), and computational scientists, including those working on biological nanostructures.

By bringing together the researchers from these three communities, the main objective of the workshop is to

1) summarize the state-of-the-art coupled mathematical models, their analysis, and computational techniques, as it then exist, for modeling low dimensional nanostructures,

2) identify critical problems of major importance that require solution and prioritize them,

3) analyze feasibility of existing mathematical and computational methodologies for the solution of some such problems, and their analysis, and

4) use some of the workshop working sessions to explore promising approaches in addressing identified challenges.

Impact and implications of this workshop are expected to be far reaching on several new inroads of this interdisciplinary field, where we will put our main efforts.

a) The analysis of coupled effects in spin polarization. We will focus on the case with electric charge. This is crucial both at the applied (as several current technologies are expected to be replaced by technology based on spin polarization) and fundamental level (since focusing on QDs allows us to get a better insight into properties of systems at the atomic level). Several experiments have recently pointed out that the optical polarization can be controlled in the columnar QDs, in which the self-assembled QDs are vertically stacked.

b) Spatio-temporal properties of nanoscale systems, accounting for coupled effects. We expect that the exchange of ideas between researchers at this workshop will allow further progress in applications of rigorous coupled mathematical theories to modelling and controlling low dimensional nanostructures, as well as their extensions to time-dependent problems. Some of these new advancements may be expected in the development of a general mathematical framework for and a systematic analysis of finite size effects in ferroelectric low dimensional nanostructures, accounting for thermo-mechanical dynamic coupling. Another group of coupled mathematical models where further progress is expected is related to the study of the influence of anisotropic gate potential on the phonon induced spin-flip rate in quantum dots and associated control and modelling issues.

c) Coupled application-driven mathematical models, topological structures, and open problems. At the application level, we expect to make a difference in providing further insight into coupled mathematical models in the context of ferroelectric, piezomagnetic, and magnetoelectric nanostructures of different topologies, including Aharonov-Bohm type topologies where the spin degeneracy may be lifted. In some such cases, corresponding mathematical models will contain non-selfadjoint operators. In the presence of parameters in the spectra of such operators, as expected for several cases of interest here, there are eigenvalues with Keldysh chains. While these eigenvalues are crucial in the analysis of corresponding systems, they have not been analyzed in the context of (even simplified) mathematical models for nanoscale systems.

We plan to have four main plenary talks of one-hour duration that will give state-of-the-art overviews of the subject area from perspectives of applied mathematics, physics, and computational science communities, as well as from a point of view of experimentalists. These talks should help identify the areas where joint efforts should be directed to, and they will set up the scene for further work. All participants will have time to present their current research and a specific time will be allocated for on-site demonstrations of software and explanations of experimental tools applied in the analysis of low dimensional nanostructures.

Extra efforts will be made to attract young talented researchers working in this interdisciplinary field and to ensure appropriate representation of women. Several young researchers who are currently working with our senior invitees have already confirmed their interest in this workshop. Overall, in the tentative list of planned participants, already over 60% are either determined to come or confirmed their interest in the workshop.

Among many areas, advances in the development of coupled mathematical models and their analysis for physical and biological nanoscale systems impact applications in biotechnology and medicine, quantum information processing and optoelectronics. The main topic of this workshop offers exciting new challenges that are intrinsically interdisciplinary and should be addressed by a multidisciplinary team and the BIRS environment would be an ideal place for its meeting.

In 2015 the AMMCS-CAIMS Congress will be held in Waterloo, Canada, featuring some of the special sessions relevant to this proposed workshop in Banff. Year 2015 would be an excellent choice for this BIRS event in Canada that can bring top researchers in this field together. The team of organizers consists of three researchers from Canada, USA, and European Union: (a) Prof. Roderick Melnik who is an applied mathematician, holding Tier I Canada Research Chair in Mathematical Modeling, and is Director of the MS2Discovery Interdisciplinary Research Institute in Waterloo, Canada,(b) Prof. Luis Bonilla who is an applied mathematician and Director of the Gregorio Millan Institute for Fluid Dynamics, Nanoscience and Industrial Mathematics at the Universidad Carlos III de Madrid in Spain, and (c) Prof. Tim Kaxiras who is Director of the Institute for Applied Computational Science at Harvard University, USA. With a full range of top researchers representing major communities involved in studying nanoscale systems who are committed to attend and actively contribute to this workshop, there is all evidence to suggest that the workshop will help substantially advance the mathematically-reach field of nanoscale systems research in general, and mathematics of nanoscale systems in particular.