Early Career Investigators Meeting on Quantitative Problems in Human Genetics and Health

(16w5078)

Arriving in

Banff, Alberta

Sunday, January 10 and departing Friday January 15, 2016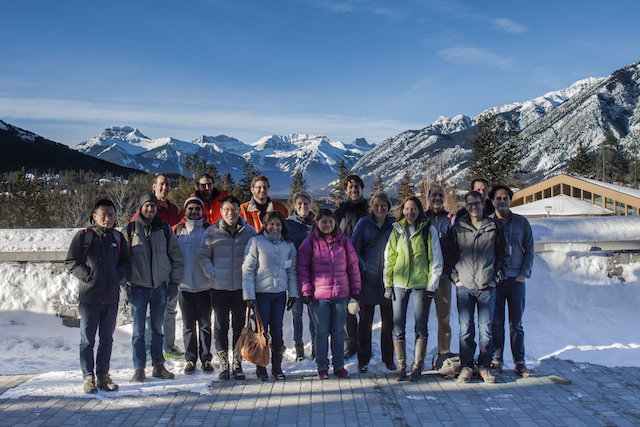 Objectives
The objectives of this workshop are: i) to identify and discuss statistical problems and opportunities afforded by contemporary data collections and cellular technologies; ii) to facilitate interactions between researchers focused on statistical methods and biological applications; iii) to discuss directions of future research in these areas; iv) to bring together early career researchers who specialize in relevant areas to exchange ideas and challenges, with the ultimate goal of establishing collaborations; and v) to share problems and strategies unique to early-stage faculty as well as future visions for the culture of the human genetics community.

New faculty and senior postdoctoral fellows have enormous potential to bring new scientific perspectives and challenge entrenched culture within the human genetics community. The past ten years of large-scale data production in genomics has created a novel environment of "big data" where a flow of ideas and data with minimal restrictions is the most productive and efficient way of driving scientific discovery. Early-career investigators of today are the first generation that has trained in this environment and is now facing the challenge to steer data-driven basic research in genetics towards medically relevant discoveries. They are highly motivated to improve access to publicly funded data, as diminished resources necessitate innovative use of existing data resources as opposed to limitless creation of novel data sets. Early-career faculty are also an often-overlooked group, without an established cross-institutional forum to discuss issues related to issues such as initiating collaborations, attracting talented trainees, leading a research group effectively, securing funding, navigating the tenure track, and finding the balance between work and family life. Success in these areas benefits not only the investigators themselves but their institutions, trainees, and eventually the whole field.

A workshop dedicated to early-stage faculty has multiple benefits over the standard conference setting. First, new investigators at similar career stages can provide each other mutually beneficial information and support as they learn to navigate the road to more senior roles. Peer advice and support is particularly relevant as the funding environment for young faculty now is radically different from previous decades, the internet has changed the communication environment, and career and collaboration opportunities outside academia are more prevalent. Second, limiting to people in their early career allows a less inhibited discussion in the absence of senior community members that junior members often rely on to obtain grants, jobs and promotions. Finally, as future leaders of the field, this workshop will provide an open forum for young investigators to shape the genetics community of their future, unconstrained by conventions of the past.

BIRS is ideal for this workshop because it provides an intimate environment for interactions among this focused group of people, which is difficult to achieve elsewhere. Traditional conferences for this community,,like the Joint Statistical Meetings and the American Society of Human Genetics meeting, have an enormous number of participants and a wide scope of topics, making it impractical to assemble a tightly focused meeting. The statistical genetics sessions at traditional settings allot less than 15 min per presentation, , leaving little time for in-depth discussion and brainstorming. There is great need for a workshop that exclusively focuses on important problems arising from the use of contemporary cohorts and data. The proposed workshop will fill this gap, provide a stimulating environment for collaborative research between early career researchers from a variety of institutions and geography, as well as between theoretical and applied statisticians and geneticists. This workshop will catalyze for substantial advancement in this important field which is leading to major changes in medical practice.