Optimization and Engineering Applications (06w5081)
Arriving Saturday, November 11 and departing Thursday November 16, 2006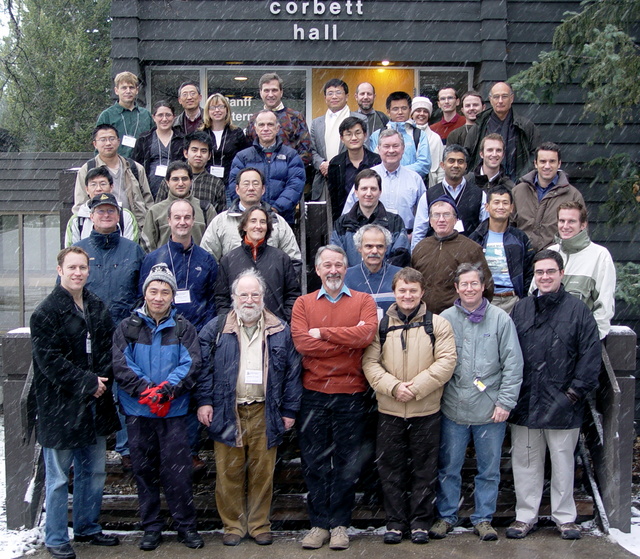 Objectives
The purpose of the workshop is: to bring together outstanding researchers from the fields of optimization and engineering; to establish new collaborations; and to expose both sides to the challenge and opportunities in the respective fields by identifying new problems and either matching these with potential solution approaches or developing new models and methodologies.
There are a number of outstanding researchers in the optimization field who have been working on engineering optimization problems (T. Luo, R. Vanderbei, J. Dennis, A. Conn to name a few) and vice versa (L. Biegler, S. Boyd, G. Vanderplaats, J. Betts). As we emphasized in the previous section, we believe that the cross fertilization of experts in both fields is crucial for the development of new methods in both communities. So far a few successful collaborations have occurred and all such collaborations were within a particular branch of engineering (such as electrical engineering, VLSI design and signal processing, chemical engineering), or among academics in the same institution (Stanford, Carnegie Mellon, MIT, IBM Research and Berkeley). Although there is a raising awareness of mutual interests, until recently there have been only very few opportunities for the two sides to meet at conferences. In the past two years there have been a few occasions where optimizers, e.g., T. Luo and S. Boyd have been invited to give tutorials in signal processing and electrical engineering conferences. The MOPTA conference series at McMaster University, organized by T. Terlaky and his colleagues, has featured several engineers who presented their work on the application of optimization in their fields. However, there has not been a workshop specifically targeting the exchange of cutting edge expertise in mathematical optimization and engineering optimization, where an elite club of expertise from both fields was formed to pave the road for future directions.
A particular fact that should be mentioned here is the MITACS project ``New Interior Point Methods and Software for Convex Conic-Linear Optimization and Their Application to Solve VLSI Circuit Layout Problems'' led by T. Terlaky, which will have been in operation for four years by 2006. The proposed workshop will provide a good opportunity to review the achievements of the entire project, discuss future research plans for the project, and identify the areas in engineering for which optimization research has a major impact in the future and new challenges of engineering optimization problems offer to the mathematical, algorithmic optimization community.
We sincerely believe that BIRS provides an ideal setting for such a workshop, where such an interdisciplinary research group may enjoy the undisturbed focus on the major challenges in their fields for these days. We plan to bring in three groups of people:
1. A selection of academics, including some excellent PhD students, from either side who have been working on the border of these two fields already.
2. Leading experts in modern optimization, who will give tutorials based on their work that are accessible to the engineering optimization community.
3. Leading academics in engineering, who will describe the problems and challenges that can potentially be solved by optimization techniques.
The total number of participants will be around 40 (including students). A tentative list of participants is enclosed. A number of key people from the list in both fields, in particular, Bertsimas (MIT), Conn (IBM), Goldfarb (Columbia), El Ghaoui (Berkeley), Mangasarian (U. of Wisconsin), Overton (NYU), Todd (Cornell), Boyd (Stanford), Luo (U. of Minnesota), Nemirovskii (Technion) have expressed interest and have enthusiastically supported the concept of the workshop and already tentatively agreed to attend, subject to timing considerations (and to the acceptance of the proposal).
We are convinced that this workshop will trigger new collaborations. It will increase the awareness of optimizers about the exciting new opportunities in the application of engineering and expose researchers in engineering optimization to the rich collection of novel optimization tools. Needless to say, this workshop will present excellent possibilities for PhD students and young researchers, to get in touch with the challenging, exciting developments of optimization methods and their applications in engineering, to meet with leading experts of both fields.