Multiscale Analysis of Self-Organization in Biology (09w5070)
Arriving Sunday, July 12 and departing Friday July 17, 2009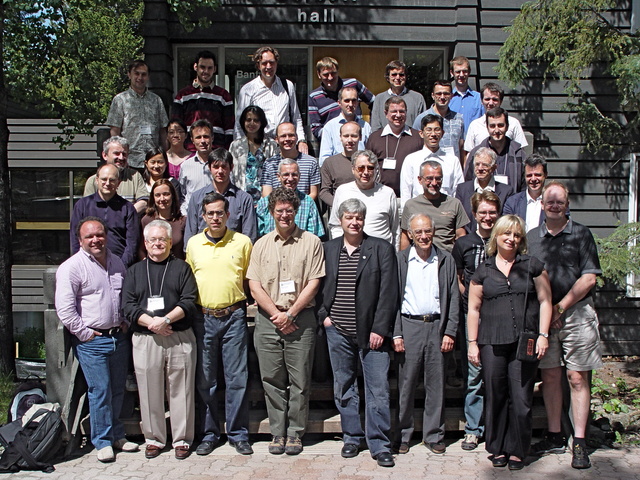 Organizers
Thomas Hillen (University of Alberta)
Benoit Perthame (Laboratoire J. L. Lions, University Pierre et Marie Curie)
Objectives
The mathematical modelling of biological systems has rapidly grown over the past decades. Positions in mathematical biology are announced in many Universities and relevant contributions are reported in the highest international journals. Most of the research is done on a model-computation-result and prediction basis. There are, however, very interesting mathematical problems related to these biological models. In this workshop we want to focus on the mathematical and analytical side of modelling and study integro-differential equations and partial differential equations. Here questions on finite-time blow-up, global existence, pattern formation, regularity and homogenization play an important role. Some of the models discussed here are brand new and their mathematical properties are basically unknown (for example integro differential equations).

1) Integro differential equations are used to model development and evolution. There has not been much analysis of integro-differential equations. Numerically, these models show interesting pattern formations, such as emerging pattern and pulse splitting. Such numerical observations motivate questions about the underlying instabilities, the bifurcational structure and the relevance of the distribution kernel of the integral operator. Some results on travelling waves are available (see F. Lutscher 2007), and other results on ... In collaboration with international colleagues we hope to initiate a dynamic theory for integro-differential equations.
2) Our second topic relates to multiscale analysis and homogenization. This is particularly relevant if microscopic details of individual cells, such a cell motors, are used to design models for cell and population movement. In poarticular the problem of cell locomation based on the underlying biochemical networks is wide open. H. Othmer and R. Erban made some first attempts in this direction.
3) models for cross diffusion show a very rich menu of spatial pattern formation. These range from finite-time blow-up, over Turing-like patterns to merging and emerging patterns. While Turing patterns are well described, the other phenomena are not quite so well understood. New mathematics is needed to follow a solution after blow-up, and new methods are needed to properly understand merging and emerging dynamics.
We will invite a mixture of well established experts in the field and young researchers and postdocs.
We expect a synergetic effect and some significant contributions to the mathematical analysis for PDE's in biology.
This workshop relates to the PIMS thematic summer on PDEs. It will enable us to share visitors with the thematics program at UBC.