Stochastic Multiscale Methods: Bridging the Gap Between Mathematical Analysis and Scientific and Engineering Applications (11w5120)
Arriving Sunday, March 27 and departing Friday April 1, 2011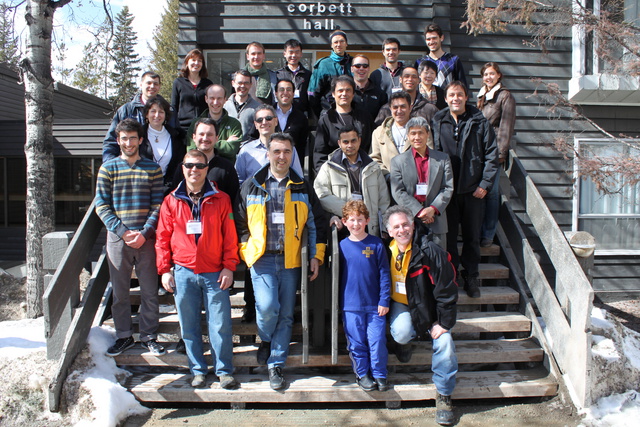 Organizers
Guillaume Bal (Columbia University)
Roger Ghanem (University of Southern California)
Wing Liu (Northwestern University)
George Papanicolaou (Stanford University)
Boris Rozovsky (Brown University)
Objectives
Rapid growth in computational resources has heightened the expectation that scientific knowledge can indeed be a driver for societal well-being and betterment. At the same time, our ability to measure the natural and social world around has significantly increased, aided by technological development in sensors, the internet, and other modalities of communication. Science is thus faced, simultaneously, with a complex description of reality at an unprecedented resolution, and the possibility to describe this reality with mathematical models of increasing complexity. Multiscale descriptions of physical problems can be viewed as attempts to take advantage of these new opportunities, while tackling the conceptual challenges they inevitably present. As a testament to the significance of this confluence of technologies, multiscale mechanics and physics, both in computational and experimental contexts, is arguably one of the fastest growing sub-disciplines in mechanics.
Our objective is to cement a dialog between mathematicians, mechanicians, and computational scientists that will lay the foundation for an accelerated growth in stochastic multiscale methods. The idea of the workshop grew from a recent experience we shared during a workshop on stochastic multiscale methods organized at the University of Southern California in the summer of 2009. Such a workshop clearly displayed an important gap between the results that can be justified mathematically and the expectations of the engineering community.
We believe that the Banff research center, with its seclusive location, convivial atmosphere, and the duration of its workshops, offers the ideal venue to generate critical synergies between groups of researchers that have evolved independently albeit with complementary scientific skills. We expect that constraints consistent with mathematical logic will be delineated, physically interpreted, and clarified in a manner that will accelerate the development of new algorithms for interscale information exchange. Likewise, we expect that physical constraints, recognized by the mechanics and engineering communities, will be acknowledged by the stochastic analysis community and treated as grand challenges that will heighten the impact of stochastic mathematics.
Toward this aim, we plan to invite experts who have conducted significant research over the course of the past few years in various aspects of multiscale analysis, either from a computational or a mathematical perspective. These participants will comprise a balanced mix of researchers from mathematics, computational science and engineering, and mechanics. Twenty individuals have already been contacted and agreed to participate. Their names are shown at the top of the list below. Additional names of people who will be invited are shown following those 20 names. We expect to have a total of 42 participants from all over the world.