Mathematical Programming in Data Mining and Machine Learning (07w5078)
Arriving Sunday, January 14 and departing Friday January 19, 2007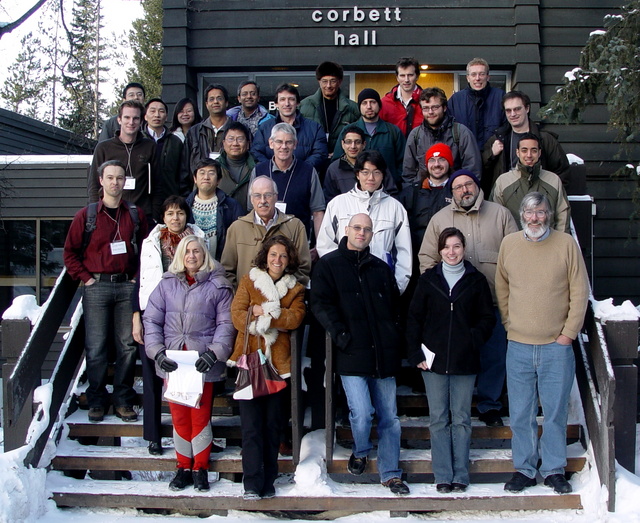 Objectives
The purpose of the workshop is to bring together outstanding researches from the fields of mathematical programming, data mining and statistical machine learning to ignite new collaborations and expose each side to the possibilities available in each field. The purpose is to identify the new problems and to match them with potential solution approaches.
There are a number of outstanding researchers in the mathematical programming field who have been have been working on applications arising from learning (Hansen, El Ghaoui, Mangasarian) and vice versa (Jordan, Platt, Vapnik). As we emphasize in the previous section we believe that the collaboration between experts in both fields is crucial for the development of the new methods, both for mathematical programming and for learning. So far a few such collaborations have occurred and all of them have been very successful. However all such collaborations were among academics based in the same institution (MIT, IBM Research and Berkeley etc). Until recently there have been very few opportunities for the two sides to meet at conferences, though there is a raising awareness of mutual interests. In the past four years there have been several occasions when some researches from both fields were brought together in a workshop of a conference (MSRI, Tokyo, FoCM at IMA).
The first workshop specifically targeting the exchange of expertise and matching of interests were held on June 1-4 at McMaster University, jointly supported by a grant from Fields Institute, MITACS and IBM. Three of the committee members for this proposal were the core organizers of the McMaster workshop. The workshop featured 9 invited speakers including K. Bennett from RPI, P. Hammer from Rutgers, P. Hansen from HEC Montreal, J. McGregor from McMaster, A. Rubinov from University of Balarat, Australia, Yong Shi from U. of Nebraska, M. Wainwright from UC Berkeley, S. Wright from U. Wisconsin, and S. Young from the National Institute of Statistical Sciences. Overall the workshop had 42 presentations and over 70 participants. It was generally concluded that more workshops on the topic were highly desirable.
A coming workshop on parametric optimization applied to computing the "regularization path" for clasification problems will be held at NIPS 2005 Conference, organized by N. Srebro (U. of Toronto), S. Rosset and K. Scheinberg (IBM Research). This collaboration is a direct consequence of the McMaster workshop.

Holding a workshop at BIRS is certain to attract a large number of prominent researchers interested in the link between optimization and machine learning and data mining. BIRS is an ideal place for such a workshop.
We plan to bring in three groups of people:
1. A selection of young academics including some excellent PhD students and post doctor fellows from different fields who has been working on problems relevant to the topics covered in the workshop.
2. Leading figures in mathematical programming, who will give tutorials on recent advance in their field that is useful and accessible to the learning community.
3. Leading experts in SVM, classification, clustering and statistical machine learning who will describe open problems that can potentially be solved by mathematical programming techniques.

The total number of people will be around 40 (including students). The tentative list of participants is enclosed. A number of key people from the list in both fields, in particular, Bennet (RPI), Bertsimas (MIT), Cristianini (UC Davis), Boyd (Stanford), Platt (Microsoft Research), Schoelkopf (Max Planck Institute), Trafalis (U. of Oklahoma), Vandenberghe (UCLA), Vapnik (NEC Labs) and Wright (U. of Wisconsin), have expressed interest and tentatively agreed to attend, subject to timing considerations (and to the acceptance of the proposal).
We are convinced that this workshop will trigger new collaboration, raise awareness to the optimizers of the exciting new opportunities in the application of learning and expose researches in learning to the rich collection of suitable mathematical programming tool. Needless to say, this workshop will present excellent possibilities for PhD student and young researchers to get in touch with the challenging, exciting developments of optimization methods and their applications in data mining and machine learning, to meet with leading experts of both fields.