Geometry for Anatomy

(11w5018)

Arriving in

Banff, Alberta

Sunday, August 28 and departing Friday September 2, 2011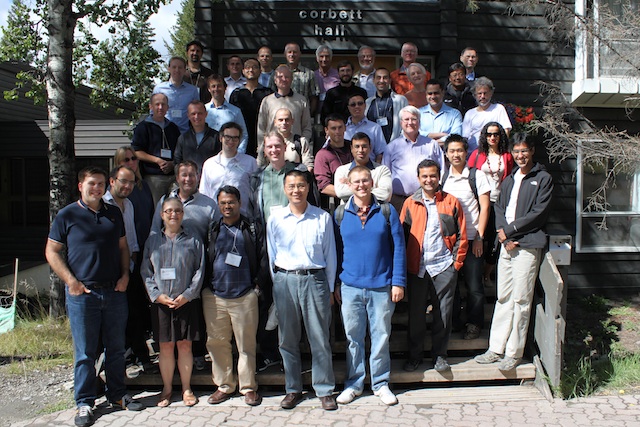 Objectives
The primary objectives of the proposed workshop include the following:

* Provide a venue for discussion among researchers, whose interests overlap in the area of developing mathematical/computational techniques to study the geometry of anatomical structures, with the long term goal of advancing health care by maximizing the benefit from the wealth of data provided by different medical imaging modalities.

* Establishing links, identifying commonalities, and highlighting differences between closely related mathematical and computational approaches for shape modeling, analysis, processing, visualization, and interpretation developed in the different communities; promote cross fertilization and exchange of ideas between participants in these communities leading to the initiation of new collaborations.

* Create links between Canadian universities (researchers and students) and leading international research groups and provide a selected group of students with the opportunity to be immersed in a world-class, research-discussion intensive environment.

* Establishing communications between the computational scientists, clinicians, and industrial representatives, to identifying primary foci for accelerating technology transfer into the health care sector.

* Identify key future research challenges and directions from different perspectives: scientific / theoretical (computational / mathematical), industrial / translational, academic / pedagogical, as well as clinical and societal (health-related).

We believe that this meeting of minds under the common theme of "geometry for anatomy" will promote cross fertilization between the different fields of computer science and mathematics, which are otherwise rather separate from each other. Currently, there is no other conference or workshop that brings these researchers in one forum or venue. We envision the proposed workshop can change this situation and set the stage for the development of a regular bi-annual or annual meeting to best serve the different communities. The medical imaging and clinical applications will not only bring these different communities together to discuss common and overlapping research issues, but will also expose new challenges to these communities from different perspectives in order to help direct research agendas for scientific advancements as well as the translation of research into clinical practice. The workshop will bring scientists from pure/applied mathematics, medical image analysis, computational anatomy, computer vision, computer graphics and visualization under one roof. The different backgrounds yet common goals and interests of the invited participants will naturally result in stimulating discussions, excellent mutual-learning opportunities, and advancements to both theoretical research areas in the mathematics of shape and to practical clinical applications focused on anatomical structures. With an aging population and increasing cost of health care, we believe the outcomes from such a meeting will offer great social and economical benefits to Canada.